Featured Article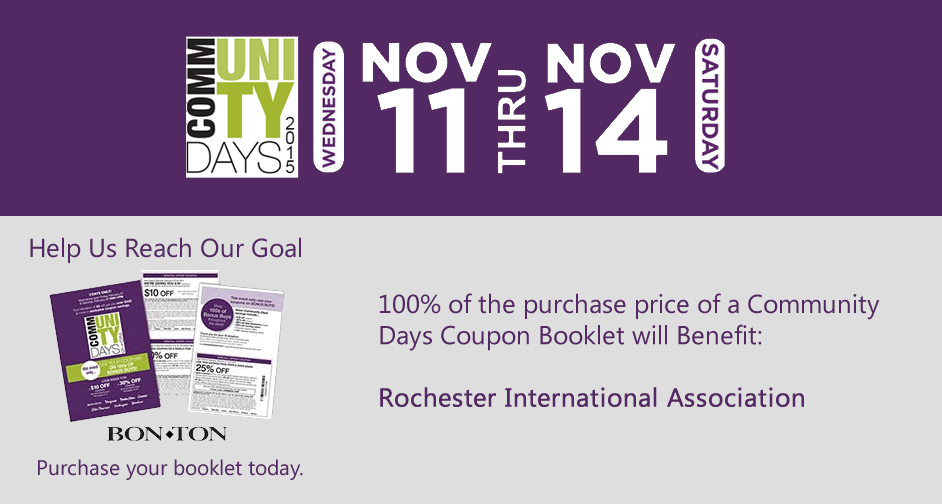 Hello friends,
In order to support the work of the Rochester International Association, including our World Festival, we need funds to be able to operate. Our Board is fully voluntary so all our funds go to covering event costs and other outlays. While we receive some sponsorship funds, memberships and donations, we have to raise funds too. Our participation in Community Days is a way of increasing our ability to continue the work of the Rochester International Association and expand on it.
Help Rochester International Association by purchasing a coupon booklet. Each booklet contains a $10 coupon good on almost any merchandise item of $10 or more (customers spend $5 for the booklet and get $10 back on their first purchase!), a 25% off shopping pass, a 30% off early bird coupon, plus great bonus offers — available on Community Days only.
---
About Rochester International Association
We celebrate cultural diversity and provide opportunities for multicultural education and exchange. Learn more
Latest News
Rochester International Association Annual Meeting! Tuesday, Sept. 1, 2015, 7 PM, at the IMAA Building, 2500 Valley High Dr NW We are electing a new board and all paid up members have a vote. Others are invited to attend. We will have some food and refreshments. We hope you can all come and show your […] Read more

– 'Annual Board Meeting, September 1, 7 PM (Elections)'

.
Mayor Ardell Brede and the Mayor's International Affairs Committee with the Rochester International Association cordially invite you to their annual International Summer Picnic Sunday, July 12, 4:30 – 7:00 PM at the shelter in Silver Lake Park next to the fire station (7th Street N.E.) (We have a roof – so come rain or shine!) […] Read more

– 'International Summer Picnic – July 12, 2015'

.
Hello Friends, The 40th Annual World Festival will be held April 10 and 11, 2015 at John Marshall High School. Check out our Facebook page, Twitter page, and our World Festival home page for periodic updates. If you are interested in participating in the World Festival, please register online before March 15, 2015. World Festival Poster Please download […] Read more

– 'World Festival 2015 Planning'

.
---